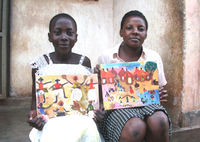 Our children's art project in Namungona has identified several promising young artists. The Namungona workshop takes place every Wednesday and Friday from 3-7 pm at the Sanyuka Childrens Ministry, a refuge for orphans and abandoned children.
Kids starting the workshop are first introduced to beading and jewelry making, then are allowed to start drawing and painting if they're interested. The children have a chance to earn a few shillings income by selling bracelets and necklaces on the street. Some of the jewelry is made from paper beads, made from color magazine pages. Other items use glass beads and wire.
In the painting class, 12 year old Catherine Namakula has become a prodigy. Catherine says her uncle taught her to do art, so she was ready to progress quickly when she started in the workshop. She showed a quick understanding of color and brush technique, and a good eye for perspective and the human form.
Catherine lives with her mother, Prossy Nakazi and her two brothers Mike, 8, and Gerald, 3 in a one room house in Namungona. Prossy is not employed, and depends on help from relatives to provide for her children. She encourages Catherine in her ambition to be a doctor.
Several of Catherine's recent paintings are for sale in the gallery.
More pictures Here.