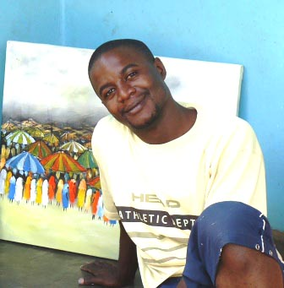 Kaspa is a nickname and trademark for Paul Kasambeko who was born in Jinja District in Uganda in 1980. In his painting, Kaspa combines a deep love of traditional African themes with a lively, inventive eye for abstraction. His paintings seem modern and traditional at the same time.
Kaspa describes the evolution of his art as "a long time dream since child hood. I pursued a Bachelors Degree in Industrial and Fine Arts Makerere University Kampala, Uganda 2004. Professionally I began in 2003 and I have been involved in so many Art Exhibitions in Uganda and East Africa at large and in Holland. My Art is an inner reflection of me intended to create an outstanding impact onto the public especially in their day today life. Art is therapy. It is something that has to do with feeling and emotions. So it is meant to calm you down.
"My subjects have always been from my life experiences, day today activities, landscapes and seascapes, people, their cultures and norms. I use oils and acrylics, waters colors, collage, sisal and bark cloth and other found objects. My works are abstract and semi- abstract, impressionistic and figurative in Nature."