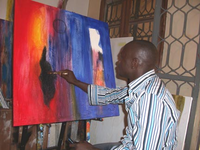 Yusuf Ssali was born in 1983 at Kireka - Bweyogerere in Wakiso district of Uganda. He holds a bachelor's degree in industrial and fine arts from Makerere University, Kampala Uganda, and a Certificate in Internet Technology from Camara Education in Dublin Ireland.
"I started painting from 2003 and I learned from many different Ugandan artists that I admired and that I worked with. I mainly work in oil and acrylic on canvas, bark-cloth and paper. One of my main sources of inspiration is the day to day work and social activities of African women. I am also intrigued by birds, fish, butterflies landscapes and their significance in traditional African Culture.
"I joined Uganda Art Consortium as a way to help those with HIV-AIDS and other life threatening illnesses. I want to use my art to relax their minds and drive them away from stress and thoughts of death. I want the patients to know they are not abandoned, that they still have a chance to live a good life."
Between 2003 and the present Ssali has taken part in over 100 solo exhibitions, group shows, art fairs and other art events in Africa and Europe. His works have been shown at Makerere University Art Gallery, Diani Art Gallery, Mombasa, Kenya; Afriart Gallery, Kamokya, Uganda; Aid Child Gallery, Kayabwe, Uganda; Watatu Gallery, Nairobi, Kenya; Ramoma Art Gallery, Nairobi, Kenya.
He is a member of Uganda Artists Association, Uganda German Culture Society and the Butterfly Project in Uganda working with deprived school children.