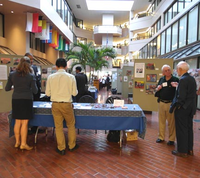 Watch Video
Uganda Art Consortium, in cooperation with the Art in Kibera Project, held an exhibition of children's art work from Kenya and Uganda at Georgetown University in Washington DC Sept. 28-Oct. 4.
The show featured over 40 works created by children in free children's art workshops in Namungona, and the art in Kibera project in Nairobi, Kenya.
Uganda Art Consortium's Namungona workshops were conducted by James Nsamba and Farouk Mukwaya.