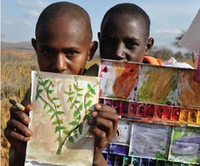 By Steven Heller, Imprint
Children of Il Polei Primary School in Kenya have illustrated a book describing the traditional use of plants for medicine in their Massai community of the Mukogodo region. The traditional use of plants as medicines is of great value to the Massai people.
The children of Il Polei Primary School have made these paintings to share their elders' knowledge. The book will include images of the children along with their words and spaces for each child to make their own notes about plants. The books will be distributed to children and teachers in the region's primary schools. The project will empower the region's children with pride and investment in the biodiversity manifested in their backyards, and help forestall further environmental degradation.
The Mukogodo region of Kenya has undergone both rapid ecological and cultural degradation. A severe drought in 2009 wiped out 90 percent of the pastoralist community's wealth — their cattle and goats. Much of the region's indigenous knowledge is at risk of being lost as these children face a more difficult and different world than their parents knew. The need for conservation, conservation education, and local empowerment in Kenya is extreme. The Mukogodo region is a vital focus point of the ACF's conservation work.
Copies of the Olcani booklet, featuring the photos below and more, are $10 from Deborah Ross (tokounou@mindspring.com).