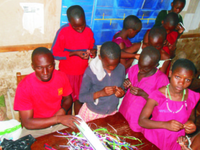 From James "Big Jim" Nsamba:
Workshops at Kidawalime Preparatory School in Namungoona started on 12 July. We hold workshops every Saturday at 2pm. Over 150 children attend each workshop.
We are basically aiming at teaching children how to recycle scrap material from the environment and use it to make art. We make colorful beads from pages of old magazines, and bracelets and bangles from plastic trash that have been thrown away.
We're helping to stop malaria by collecting this plastic junk, because mosquitoes breed in stagnant water that collects in these discarded plastic bottles and other containers. So at the same time we teach about art concepts and materials, we're teaching the children about staying healthy and making a cleaner environment.
Several of the children are working on a big mural entitled "A Clean Environment Helps Stop Malaria".
Artists James Nsamba, Farouk Mukwaya, Peter Kalyongo, Chaz Mbazira and Hassan Mukiibi are teaching the children in the workshops.
The children love the workshops and the chance to express themselves. Attendance has been very impressive.
In the photo, Farouk Mukwaya teaches children how to make colorful beads from pages of old magazines.