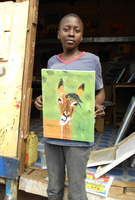 We're putting on a three week-long art exhibition in Boston October 10 to 27 at the Arnheim gallery at Massachusetts College of Art and Design.
[i]
[size=18][b]Opening reception: Wednesday October 10, 5-8PM[/b][/size][/i]
The show will feature work by children from our Uganda Workshops, as well as work by our grown-up artists who run the workshops but also would love to sell some of their own work.
Some of our member artists are becoming well-known in Uganda as well as in the U.S. and Europe. They are mostly young and struggling. With this and other exhibitions, we are trying to provide income to artists, and finance our programs of Art Therapy for HIV-AIDS patients, and free children's art workshops in Uganda.
Here's a [url=http://ugandart.com/files/arnheim_release_20120828-5.pdf]press release[/url] for the show you can download and send to friends and any media you might know of. And here's a [url=https://maps.google.com/maps/ms?msid=201797762455516333141.0004ca227ecfa7c31338f&msa=0&ll=42.337008,-71.099138&spn=0.018399,0.045447]street map [/url]and a [url=http://ugandart.com/files/campus_map.jpg]campus map[/url] showing the location of the Arnheim Gallery.