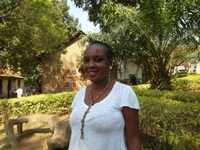 Annette Nakafu is the coordinator of Uganda Art Consortium programs at Mulago Hospital. She leads a group of 8 UAC volunteers who visit the hospital on a regular basis to teach basic art skills to HIV-AIDS patients in the hospital's Infectious Diseases Institute.
The program has provided art instruction and practice to over 2,000 patients in the last three years who come to the hospital everyday for treatment and medications. Hospital officials say that the program provides a huge psychological and emotional boost for patients and their families, helping them overcome the stigma, isolation and despair that often afflicts HIV-AIDS patients.
Annette recently completed (on scholarship) The Arts in Medicine for Global Communities Intensive at the University of Florida.
In her own work, Annette's brilliant use of collage as an art medium makes her work unique in almost any setting. She frequently uses recycled magazine pages to create portraits and still lifes. She regularly leads art therapy sessions in painting, drawing, collage, jewelry making, ceramics and tie-and-dye.
Annette started her volunteer work when she herself was hospitalized at Mulago with meningitis. She found that working with art materials helped her avoid the boredom and depression that often comes with long hospital stays. Her artwork impressed the hospital staff so much, they asked her to come back, after her recovery, and help teach art to others patients. She sells her artwork at the hospital and has shown her work at several galleries in Kampala. She has 2 children, 18 and 16, and also helps support her mother.
Click here
to see photos of Mulago programs and some of Annette's recent work.