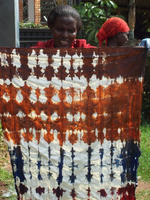 Over seven hundred children and HIV-AIDS patients attended Uganda Art Consortium workshops in 2013.
Over 360 people took part in 36 art therapy sessions held at the Infectious Diseases Institute at Mulago Hospital in Kampala.
Classes included jewelry making from July 17 to September 2, and tie & dye from October 1 to December 31. Uganda Art Consortium members James Nsamba, Farouk Mukwaya, Peter Kalyango and Hassan Mukiibi and Program Coordinator Annette Nakafu conducted the sessions.
A few kilometers away in Namungona nearly 400 children were in attendance at three series of workshops during the year. Sessions were held at Nansans Junior School in April; Elton Brilliant School on Entebbe Rd. in July and August; and at God is With Us Primary School, Namungona in October and November. Plus, dozens of kids visit our Namungona studios every weekend and holiday to hang out with the artists, Jim Nsamba, Farouk Mukwaya and Peter Kalyongo, and to learn painting, drawing and jewelry skills.
The sale of artwork at exhibitions and online pays the cost of the workshops. The artwork includes works by our member artists as well as paintings and jewelry by participants in Mulago art therapy sessions and Namungona children's workshops.
More photos here